Wow!  It just seems like yesterday when my colleague from work, Stacey Hyde, MS, RD announced her pregnancy on Facebook in a very clever fashion.  Both Stacey and her husband held up a yellow diamond shaped road sign with the words, "BUMP AHEAD", informing the world of their soon-to-be new arrival. Not only has Baby Gentry been born, but he is now receiving solid food.  Time flies!
Stacey is following the wisdom provided by Ellyn Satter, MS, RD, LCSW in introducing solid foods to her Southern Baby Boy.  He reached the following developmental landmarks before she provided him with food.  They are:
1.  Gentry was able to sit up alone or with support.
2.  Gentry could open his mouth for the spoon.
3.  Gentry could close his lips over the spoon.
4.  Gentry could more or less keep most of the food in his mouth.
5.  Gentry could swallow.
"The first food I gave Gentry was smushed-up avocado.  When I put it in his mouth, he scrunched his face up really tight," his Mom Stacey fondly recalled with a smile on her face.  He seemed to be signaling to his Mom that he was done with this new experience of eating solid foods.  Stacey respected Gentry's feeding and stopped.  She knew there would be plenty of opportunities in the future to learn to eat "big people" food.  As Ellyn Satter, MS, RD, LCSW counsels in her book, Feeding With Love and Good Sense:  The First Two Years":  "Your baby eats best and feels best about you – and about eating -when you pay attention to him and do what he wants.  Guide feeding by paying attention to his signs of hunger and fullness."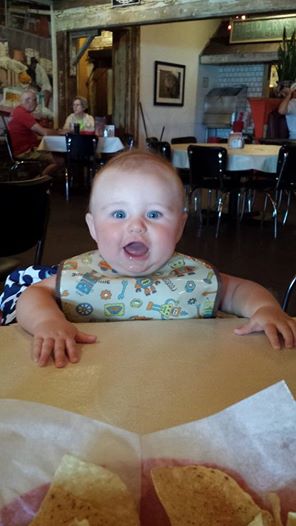 LIL' GENTRY LEARNING TO EAT SOLIDS
In closing, I want to congratulate Stacey on the excellent job she is doing feeding Gentry.  He has been exclusively breastfed since birth.  The picture below shows her mothering has resulted in a very healthy and happy baby!
HAPPY BABY!  HAPPY FAMILY!