Last week I was in Houston, Texas for the Academy of Nutrition and Dietetics Food and Nutrition Conference and Expo…or in simpler terms, my professions annual national meeting.  Ellie Krieger, MS, RD was the speaker for the 2013 Lenna Frances Cooper Memorial Lecture.  This was a great honor for Ellie, as it is the most prestigious lecture sponsored by my professional association.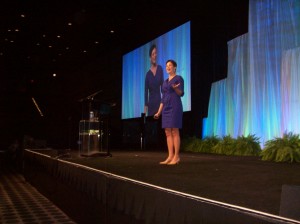 ELLIE KRIEGER, MS, RD PRESENTS THE LENNA FRANCES COOPER MEMORIAL LECTURE
You may know Ellie Krieger from Food Network's "Healthy Appetite" show (now featured on the Cooking Channel.)  She is the author of the following books:  "Small Changes Big Results", "The Food You Crave:  Lucious Recipes for a Healthy Life", and "So Easy:  Lucious Recipes for Every Meal of the Week."  She is also a spokeswoman for First Lady Michelle Obama's "Lets Move" campaign.
Ms. Krieger lives in New York City and finds time to volunteer at public schools in the city.  She teaches families whose children attend low-income public schools how to prepare produce they may have received from the local food bank or community garden.  Ellie told the story about a food truck parked outside a public school serving primarily Hispanic children.  The owners would sell foot long churros to Hispanic children when the school day ended.  For those of you who are unfamiliar with churros, they are a rolled, sugared Mexican donut.  The Wellness Committee of this particular school wanted the food truck to stop selling churros to the children.  Many parents protested the stoppage of the churros because this was an ethnic food the children loved.  The two sides met and a compromise was reached.  The food truck could still sell ethnic food to the children, but instead they developed a MANGO CHILE LIME recipe!  The children loved the tasty, healthy recipe, and it was a part of their Hispanic heritage!  I love WIN-WIN solutions!
Here is the MANGO CHILE LIME RECIPE
2 mangos, peeled and diced into chunks
1 jalapeno pepper, diced
1 to 2 small limes, cut in half  (Number of limes dependent on your taste)
Place the mangos and jalapeno pepper in a bowl.  Squeeze the limes over the this dish and it is ready to eat!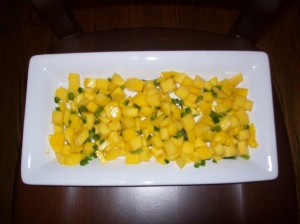 MANGO CHILE LIME RECIPE
Here is another quick tip from Ellie:  "If you want to spice up your cooking, many great ideas come from the book, "The Flavor Bible."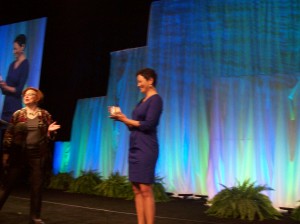 ELLIE RECEIVES HER LENNA FRANCE COOPER MEMORIAL LECTURE AWARD
Thank you to Ellie Krieger for her enlightening presentation.  I am glad my professional association honored you as the 2013 Lenna Frances Cooper Memorial lecturer.  It was a great honor for me to hear your wisdom.  Bon Appetit!