Last Thursday night Adam and I went to hear a local Traditional Irish Music Band called "SLIP JIG".  The concert was held at the Burritt on the Mountain Museum.  An added bonus was when we witnessed a lovely sunset from this mountain top.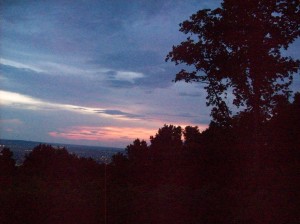 Sunset View of Huntsville from Burritt on the Mountain

SLIPJIG was the name of the band that thrilled us with their Irish Traditional Music.  I never heard the term "slipjig" before this evening.  Slip jig refers to both a style in Irish music and dance.  The slip jig is in 9/8 time with accents on 5 of the 9 beats in Irish music.  In Irish dance, the slip jig is one of the four most common Irish step dances, along with the reel, jig, and hornpipe.
Initially, Adam groused that did not want to go to the concert, but I dragged him there anyway.  Slipjig performed a fun, foot-stomping, hand-clapping concert for the audience.  Adam enjoyed their music so much he purchased two of the CD's.  To any male readers:  "Remember the wife is always right when planning fun times!"   Wait a minute…"Remember the wife is always right. Period!"
One of the band members of Slip Jig is Alfred Trotter, MD.  He is an Ears, Nose, and Throat Surgeon at the hospital that I work.  He played the wooden flute and the pennywhistle.  This was the first time in my life I ever got to see a pennywhistle.  I also learned from the guitar player, Mike, that Nashville, Tennessee has a strong Irish music presence. Could this be another reason Nashville is known as the "Music City?"  The fiddler, Phil, informed us that when playing Irish Traditional Music fiddle in America, it is a bit more lively than in Ireland…that's what "crossing the Atlantic" did to Irish music!
I am a big fan of Laura Ingalls Wilder and her "Little House" books.  This concert reminded me of the times when Pa Ingalls entertained the citizens of DeSmet, South Dakota with his fiddle.  It was fun to make pretend I was Laura Ingalls Wilder in the late 1800's!
In closing, a BIG THANK YOU to Slip Jig for a great evening of entertainment!
THE BAND – SLIP JIG